iFrankenDock: The Frankenstein's Monster Of Car iPhone Docks. A DIY love story.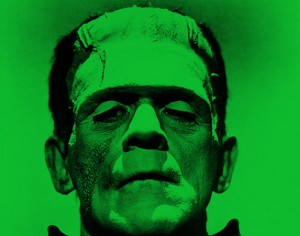 Most of us havent touched a cassette tape since the 1990's, and personally I havent really even used CD's much for music in a very long time. For the past 8 or 9 years my music format of choice has been MP3. I really love listening to music in my car because it's the best place to crank it loud. Music makes driving (or sitting in traffic) a much more enjoyable (or tolerable) experience. But, I have longed for a reasonable way to enjoy music from my iPhone in the car.
There are of course a wide array of products and devices that attempt to solve the problem, short of buying a new car stereo with auxillary audio or bluetooth audio capabilities (really the best i've seen so far), none of them are ideal. FM transmitting devices are horribly flawed. Between the audio quality limitations of FM frequency and the crowded radio bandwidth in any even slightly populated location, this has really never been a very good options to take your digital tunes on the road. To make matters worse my late model Honda Accord allows for no standard or even aftermarket auxiliary audio inputs. It does have both 6 CD changer and cassette desk.
Several years ago I had resigned to use a cassette cd adapter which drastically improves on the sound quality of FM transmitters, but between charging and the cable from the cassette adapter, getting in and out of the car always left me plugging / unplugging and untangling a mess of wires.
Recently, I spent some time looking for an iphone mount for my car, because i use a GPS app for directions. The cable mess, combined with trying to hold the phone or balance on my lap only to slide off at every turn left me feeling like I really could do better. After a few trial and error experiments with some of the standard, suction cup mounts, I came across a really cool solution. The Mountek nGroove Universal CD Slot Mount on Amazon for $25. This thing inserts into the slot of your car CD player and is surprisingly stable and holds an iphone (and most any other phone) firmly.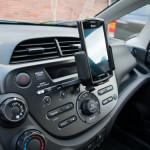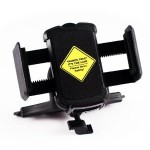 Since I still want to use the cassette tape CD adapter, but also charge my phone at the same time, I figured there must be a cable available that could help reduce my cable mess. Back to Amazon… I found an iPhone dock connector cable that allows for charging the phone and audio out through the dock connector.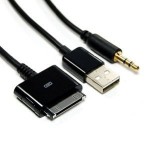 The cable out to 3.5mm plug, can then be connected to the cassette tape CD adapter using a 3.5mm female to female audio coupler to complete the ultimate frankenstein of car phone dock / mount solution. I got crafty with some zip ties to attach this to the bottom of the nGrove so that the dock connector firmly stays in an upright position to create the worlds first iFrankenDock®.  Its not perfect and there are still cables visible but with a little bit of work they really aren't that bad. So now I can quickly set my phone into, and quickly remove the phone from my iFrankenDock® with relative ease and enjoy my Pandora, Spotify or MOG streaming music in the car, and use my GPS app to get me where I'm going.